As I've embarked upon the task of building my own modular eurorack case throughout the last year, I recorded a number of clips demonstrating the versatility that such a system can have through different patch configurations. The following are those clips in chronological order, each one showing the variety of options available to the modern analog synthesis enthusiast.
This first patch is a fairly skinny setup, with the SubCon Model 52 Vampire, Make Noise Optomix, and Expert Sleepers Disting mk1 housed in a Tip Top HEK desktop mount powered by the included μzeus power supply. Gates and Pitch CV sent from the Arturia Beatstep sequencer affect the modular patch while a midi output from the Beatstep also clocks my Korg Electribe ER-1 synced via midi to the Korg Volca Beats as well. The end result is a series of odd melodic echoes.
In this one I am using a similar configuration, now with an added Make Noise Wogglebug v2 to add some classic analog randomness to a driving bouncy trance beat.
The rack has grown even more in this clip, with the WMD Micro Hadron Collider dual filter, and Make Noise Maths v2 all adding crucial dimensions in shaping the sonic characteristics of the signal.
In this next example, I further demonstrate the usefulness of the Beatstep by letting it act as a conduit between my laptop DAW and the Eurorack modules.
By now, a larger case in the form of a Bento Box has been acquired. These are designed to specifically house the Tip Top HEK racks to make them more road worthy. Also added is a Make Noise Rosie and a 4ms Quad Clock Distributor. The number of patch cords necessary to patch everything at this point is getting a bit out of hand as well.
Here we see another patch where the joys of a synchronized system come to light. Sequences trigger modulations that match up rhythmically with the back beat.
In this last clip, the Keith McMillen QuNexus controller provides for an improvisational scale that inspires all nearby felines to attain maximum relaxation. All in a day's work for a modular synthesist.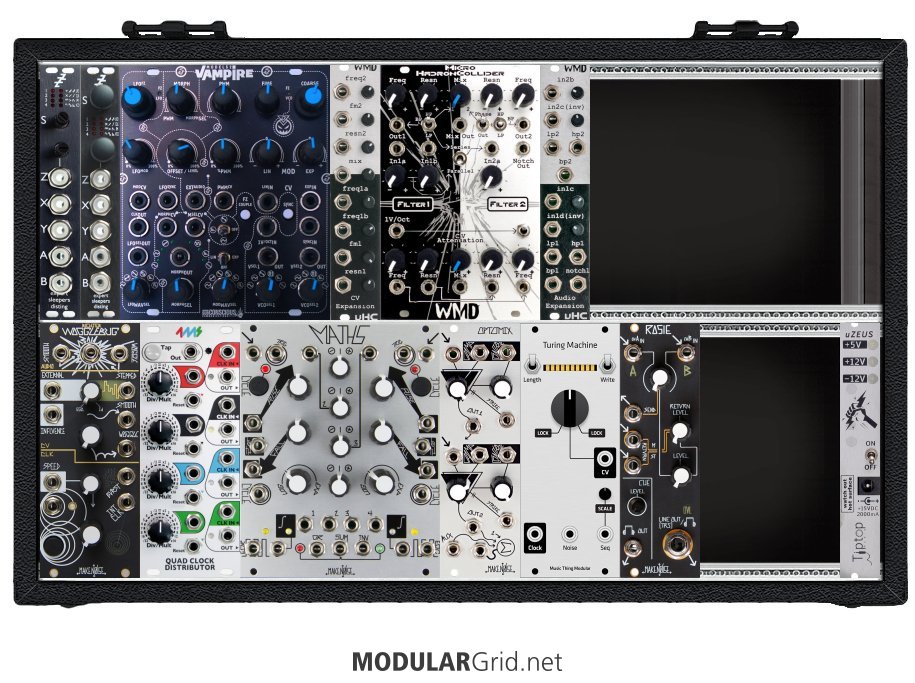 So far my case isn't even full yet but does quite a bit! I've since also added a second Expert Sleepers Disting (their newest, the mk3!) but have slowed down on adding modules as I experiment with current possibilities. Future plans are to figure out a more robust power supply as the μzeus seems to be getting a bit warm handling power for all the 10+ modules in there. I am also hoping to start a second case designed with drum modules in mind, along with acquiring an Arturia Beatstep Pro to tie everything together into a central analog workstation.
Til next time, keep wiggling!